We decided to combine the Teaser Tuesday, hosted by MizB from A Daily Rhythm, with the First Chapter ~ First Paragraph Tuesday Intros, hosted by Bibliophile By the Sea.
~~~~
This will be the first post of this kind on this blog and I, Emalie, decided to start this series with Something Strange and Deadly by Susan Dennard. I'm currently reading it and till now I like it. Also I decided to shorten the headline because "Teaser Tuesday + First Paragraph Tuesday Intro #1" would be just way too long. So from now on, this series will just be called "TT+FPTI". Deal with it, guys 😉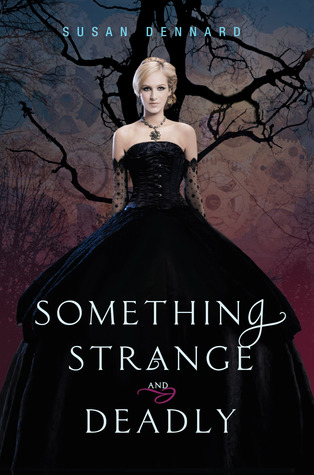 Opening:
"Dead!" a woman screamed. "It's the Dead!"
My heart shot into my throat, and shocked cries rippled through the station. The woman sounded nearby – as if she was also in the line of at the telegraph office.
But… this couldn't be real, could it? The Dead? At the Centennial train depot?
The woman shrieked again, and I saw her, four customers behind me, her face white and eyes huge. A breath later, somber bells rang out, and I knew it was all very, very real. That was the Dead alarm.
Teaser from page 92:

After considering my options – Come back later? Leave Elijah's letter? – I crouched in an awkward mass of skirts and bustle and slipped the note through a crack between the door and floor.
Synopsis:
Starting over sucks.When we moved to West Virginia right before my senior year, I'd pretty much resigned myself to thick accents, dodgy internet access, and a whole lot of boring… until I spotted my hot neighbor, with his looming height and eerie green eyes. Things were looking up.And then he opened his mouth.Daemon is infuriating. Arrogant. Stab-worthy. We do not get along. At all. But when a stranger attacks me and Daemon literally freezes time with a wave of his hand, well, something… unexpected happens.The hot alien living next door marks me.You heard me. Alien. Turns out Daemon and his sister have a galaxy of enemies wanting to steal their abilities, and Daemon's touch has me lit up like the Vegas Strip. The only way I'm getting out of this alive is by sticking close to Daemon until my alien mojo fades.If I don't kill him first, that is.
Leave the link to your opening and/or teaser down in the comment section
❤ ❤ ❤
____________
Check out Emalie's social medias
Main blog | Twitter | Facebook | Bloglovin'