We decided to combine the Teaser Tuesday, hosted by MizB from A Daily Rhythm, with the First Chapter ~ First Paragraph Tuesday Intros, hosted by Bibliophile By the Sea.
~~~~
And it's once again Tuesday. This week we present to you teasers from *drumrolls* Obsidian by Jennifer L. Armentrout. I, Emalie, just love this book and the series and Jennifer L. Armentrout in general.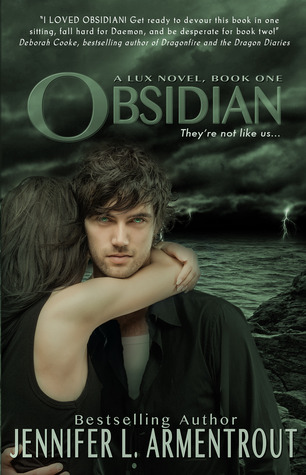 Opening:
I stared at the pile of boxes in my new bedroom, wishing the Internet had been hooked up. Not being able to do anything with my review blog since moving here was like missing an arm or a leg. According to my mom, "Katy's Krazy Obsession" was my whole life. Not entirely, but it was important to me. She didn't get books the way I did.
Teaser from 39% / page 108:
Why in the hell was I looking at this?
It was insane. I stopped myself before I started searching for aliens in West Virginia.
Synopsis:
Starting over sucks.
When we moved to West Virginia right before my senior year, I'd pretty much resigned myself to thick accents, dodgy internet access, and a whole lot of boring… until I spotted my hot neighbor, with his looming height and eerie green eyes. Things were looking up.

And then he opened his mouth.
Daemon is infuriating. Arrogant. Stab-worthy. We do not get along. At all. But when a stranger attacks me and Daemon literally freezes time with a wave of his hand, well, something… unexpected happens.
The hot alien living next door marks me.
You heard me. Alien. Turns out Daemon and his sister have a galaxy of enemies wanting to steal their abilities, and Daemon's touch has me lit up like the Vegas Strip. The only way I'm getting out of this alive is by sticking close to Daemon until my alien mojo fades.
If I don't kill him first, that is.
Leave the link to your opening and/or teaser down in the comment section
❤ ❤ ❤
____________
Check out Emalie's social medias
Main blog | Twitter | Facebook | Bloglovin'