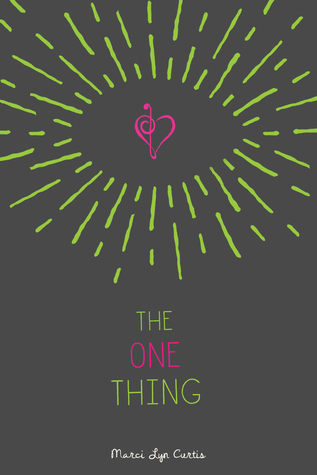 Synopsis:
A soaring tale of life and love,
of sacrifice and renewal,
and learning to see people as they really are.
Maggie Sanders might be blind, but she won't invite anyone to her pity party. Ever since losing her sight six months ago, Maggie's rebellious streak has taken on a life of its own, culminating with an elaborate school prank. Maggie called it genius. The judge called it illegal.
Now Maggie has a probation officer. But she isn't interested in rehabilitation, not when she's still mourning the loss of her professional-soccer dreams, and furious at her so-called friends, who lost interest in her as soon as she could no longer lead the team to victory.
Then Maggie's whole world is turned upside down. Somehow, incredibly, she can see again. But only one person: Ben, a precocious ten-year-old unlike anyone she's ever met. Ben's life isn't easy, but he doesn't see limits, only possibilities. After awhile, Maggie starts to realize that losing her sight doesn't have to mean losing everything she dreamed of. Even if what she's currently dreaming of is Mason Milton, the infuriatingly attractive lead singer of Maggie's new favorite band, who just happens to be Ben's brother.
But when she learns the real reason she can see Ben, Maggie must find the courage to face a once-unimaginable future…before she loses everything she has grown to love.  (Coming September 8th, 2015 by Disney-Hyperion)
Tanya's Review:
The One Thing by Marci Lynn Curtis is a powerful story about overcoming personal struggles and finding that one thing that makes you stand out. The One Thing evoked so many emotions in me which is equals a great read in my book. I found myself laughing out loud and tearing up many times while reading The One Thing. My favorite character was hands down Ben because he was so energetic and vivacious that not liking him was impossible.
I give The One Thing five stars because the story had lots of heart and hope.
About The Author:
Marci Lyn Curtis grew up in Northern California, where she went to college and met an amazing guy in a military uniform. Two college-aged kids and one dachshund later, she lives in Maryland, where she laughs too loudly and eats peanut butter off spoons. Her YA contemporary debut, The One Thing, releases September 8th, 2015, via Disney-Hyperion.
Find Marci on Twitter, Facebook, Goodreads, Instagram, and Pinterest, and check out her interviews with fellow debut authors.
Purchase Links:
Preorder THE ONE THING on  Amazon, Barnes & Noble, Indiebound, iTunes, or Indigo.
Signed copies are available at Barnes & Noble, either by email request: ( crm2817@bn.com ), or by phone ( 410-638-7027 ). Please direct all inquiries to the lovely Tina Bianca.
Add THE ONE THING to your Goodreads to-read shelf!